About JC Environmental
JC Environmental Solutions is founded upon over 20 years of experience in the waste industry, including industry specific operations and also in the management of waste for large businesses.
We aim to provide high quality services at fair prices and always go the extra mile for our clients, as well as ensuring that any waste is handled and disposed of in full compliance of the law, is done so in an agreed timescale, and to the best of our abilities.

Industrial Services
We provide a comprehensive range of waste disposal services to our commercial clients ranging from industrial tankering, recycling and waste disposal, industrial cleaning, and specialised services such as centrifuge dewatering and drain inspection with CCTV.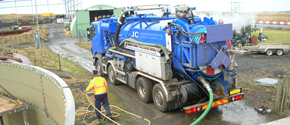 We also provide managed solutions for clients, and through our 100% waste contracts can manage your waste requirements, driving down costs while still providing extremely high levels of service.
Domestic Services
Our team also specialise in the emptying of septic tanks and we provide a range of timed services to meet our clients needs and budgets.